Partnership Program
The Partnership Program allows your organization to gain visibility with the ISM—Denver, Inc. audience.
Partners who support ISM—Denver Inc. are much appreciated, and their partnership is not an endorsement nor an inducement to purchase, sell, or use any company, service, facility, or product.
The proceeds from the Partnership Program are exclusively for ISM—Denver's use to provide administration for member services including yet not limited to activities, programs, professional educational opportunities, or special events.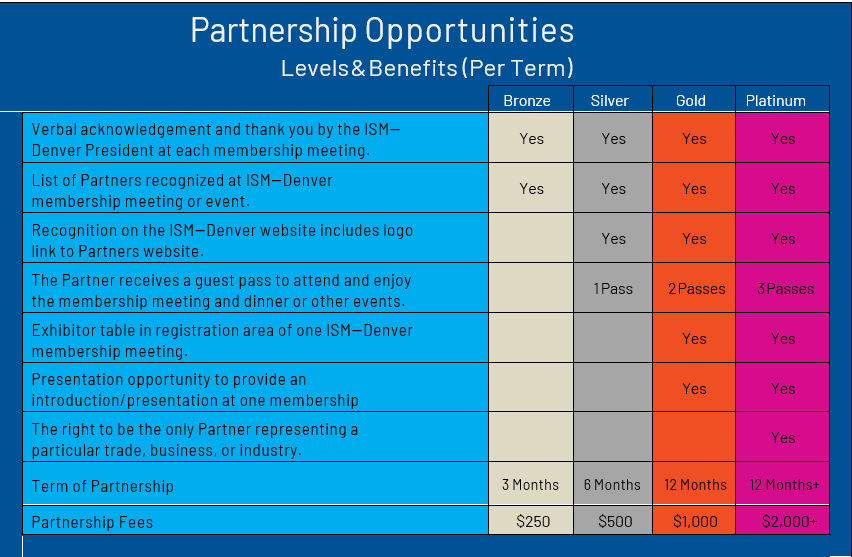 The benefit of partnering with ISM—Denver, Inc. is primarily visibility of your business to regional association members and their organizations.
Established in 1920, ISM—Denver, Inc. is a not-for-profit association that provides opportunities for supply management education, the promotion of the profession, local networking, and the expansion of professional & personal skills and knowledge. With a reach of 2,500 supply management professionals, representing 700+ companies here in the Denver area, we host a diverse audience that represents sectors from manufacturing and services sectors to hospitality and retail.
ISM—Denver, Inc. offers a variety of media channels to reach supply management professionals and our specific membership base. Though their location is within the Denver region, their influence is worldwide.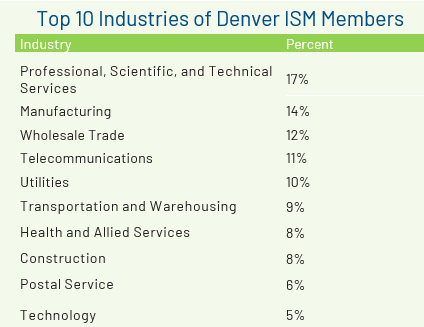 The role level landscape of our members is 53% mid-level, 34% entry level, 9% Senior/Executive and 4% Academic.
The average revenue of the businesses comprising our members include 44% >$5B, 8% $1-5B, 9% $500M to $1B and 39% <$500M.
In today's competitive world of global business, supply management has grown more complex and supply management professionals are looking for thought leaders and organizations like your business and partnering with ISM—Denver, Inc. to make their jobs more efficient and productive. We look forward to partnering with you.